10 - A CHILD'S FAMILY TIME LINE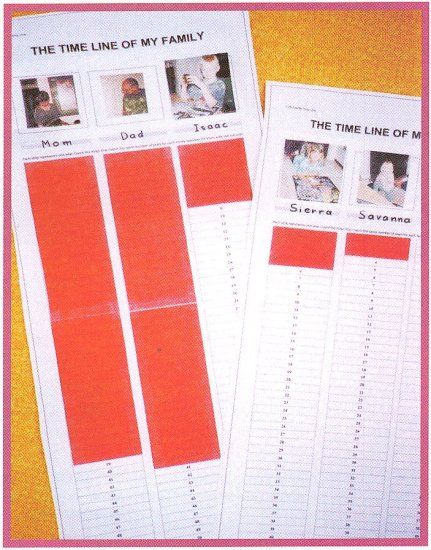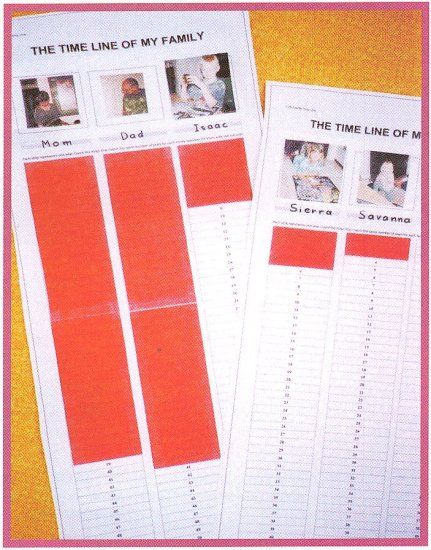 10 - A CHILD'S FAMILY TIME LINE
A Child's Family Time Line involves only counting and taping strips of red paper that represent the years of each family member. Since this work involves no writing, it is ideal for the youngest children of the Preschool level, but it can be of great enjoyment even for children of the Junior Elementary up to 7 years of age. Print this file and assemble the time line of Mom, Dad and child by taping together the title page where the photographs are placed and the five pages that show the bank strips of the years for each family member, from 1 to 100. If one or more siblings are also included in the family of the child, then the same procedure is done for assembling the time line of the siblings (three per chart). When the child brings the pictures of the family members to school, the teacher will show where each picture should be taped down at the top of the chart. The teacher will write the names under each picture. For example: Mom, Dad, Mark, Jane, David, and Susan. Explain that each strip represent one year. Start with Mom and cut out as many red strips that represent her age to be taped or glued under Mom's picture. Repeat the procedure with Dad, child, and any other family member. The time line may be taken home or kept at school and the child may add a red strip on the birthday of each family member as they are celebrated. Instructions are included in this file.
The Montessori Pedagogical Notes published on the Montessori Files website are available for purchase by anyone. They are intended for exclusive use by the person who purchased them. These instructional notes are based on Dr. Montessori's Method of education and have been elaborated by Franco Albanesi, A.M.I. subsequent to many years of study and practical classroom application. These notes are copyrighted property of Mr. Albanesi, all rights reserved. In agreement with international copyright law, the buyer acknowledges and understands that such notes may not be duplicated and released to other people without written permission from the author.
NOTE: Like any other document found on this web site, customers understand that their purchases are final and non-refundable for any reason.